- Construction activity and prices on the residential market have cooled

- Sofia continues to attract investment, prices along the coast are still rising, while Plovdiv is the most balanced real estate market

- Mortgage down payments have fallen below 20%
A gradual, yet visible slowdown in growth: this has characterized the Bulgarian residential real estate market in the past few months. This doesn't augur a fall and there're no indications of such. The banks have been extending more credits, sizeable projects have entered the market, and more and more people chase a deal even pre-construction.
Even so, real estate experts note the demise of the fast growth that marked the end of the previous two years. Banking statistics show that the number of mortgages with over 80% of credit financing has skyrocketed, signalling the dwindling numbers of buyers with sufficient resources of their own.
Ten years later
It has been a decade since the start of the financial crisis, which began with the collapse of the mortgage market in the US, and whose principal victims were the construction and real estate sectors. This makes a retrospective-comparative analysis inevitable.
"Ten years ago, we had a very strong demand from abroad, which gave prices an additional impetus," commented Polina Stoykova, managing director of Bulgarian Properties real estate agency. Local buyers currently generate most demand and that brings additional stability. Realtors all agree that aside from the lack of foreign interest, buyers' attitudes have also had a balancing effect in the past year.
The rising prices of the last few years and the depletion of savings allocated to buying a home (something seen in the banks' financing statistics) also contributed to the minor slowdown. Real estate agents added that recent buyers have shied away from jumping at the first deal, and are more inclined to wait for a better offer. These are all indicators of a maturing, and not overheating market.
"Another difference from the boom ten years ago is that back then construction companies rushed to meet rising demand by acting very chaotically. Ill-conceived projects were proposed, and the quality of planning and execution was far inferior; no one thought of infrastructure and accessibility for residences," added Polina Stoykova.
However, there are some causes for concern. The decrease of the mortgage down payment ratio is one. Most deals are to purchase new buildings, and about 80% of them are for projects in the pre-construction or construction stage. This always carries a risk of financing shortfalls and a failure to complete deadlines.
There is growth, but it has slowed
We can't really speak of a price drop in Sofia. Nevertheless, compared to the last two years, price growth has slowed noticeably, which rather indicates a maturing market. Unsurprisingly, Bulgaria's financial and economic hub keeps attracting fresh investment and new arrivals from around the country.
Location is the biggest arbiter of price. Hence Sofia districts such as Ovcha Kupel and Druzhba, where new constructions have brought an upgraded public transit network, have seen average growth of 10% and more in the past nine months. Data provided by the Address real estate agency shows that similar growth can be observed in the city center and the Lozenets district, which are traditionally preferred for investment and even short term renting. Prices there exceed 1350 euro per sq. m - considerably above the city average of 990-1080 euro.
The districts Druzhba, Hadzhi Dimitar, and Lagera record the largest price increases since 2012 when the market bottomed out. Based on asking prices on the website imot.bg (which of course comes with the disclaimer that these are asking prices and not prices of final transactions), residences in these neighborhoods have soared by 50% since 2013. In Druzhba's case the game changer is the construction of the new metro line, while the others are districts with kindergartens, medical facilities, parks, and road infrastructure (as opposed to poorly planned Manastirski Livadi, for example).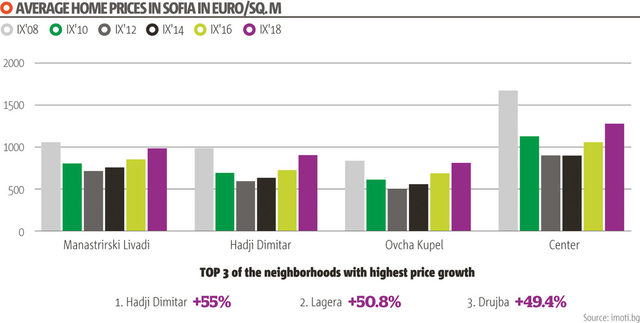 Investment approach
Statistics show that interest in real estate investment in big cities varies around the country. Different agencies and consultants report that in the first half of the year, investment purchases represented 15-45% of total sales. The returns, however, aren't very high. Realtors state they stand at about 4-5% in the big cities. Address cited a two-bedroom apartment in Sofia's Mladost district. If its purchase price is 82,000 euro and the average monthly rent is 350 euro, the yearly return amounts to about 5.1%.
This means that it takes at least 20 years to recoup the investment, without factoring in the cost of repairs, maintenance, tenant rotation and other expenses that could arise during this period.
On the other hand, only one-third of investment deals were for apartments under construction or completed this year. The other sales happened at an earlier stage. Banks do not cover such deals, and brokers at Address believe that 80% of investors use their own funds. Mortgages are harder to get for new constructions, and banks seldom lend before completion, explained Polina Stoykova from Bulgarian Properties.
Pre-construction investment purchases pose a risk if bank credit is used. In the event of a European crisis, riskier credit recipients would default on their payments. This could lead to halts in construction which could additionally jeopardize such investments.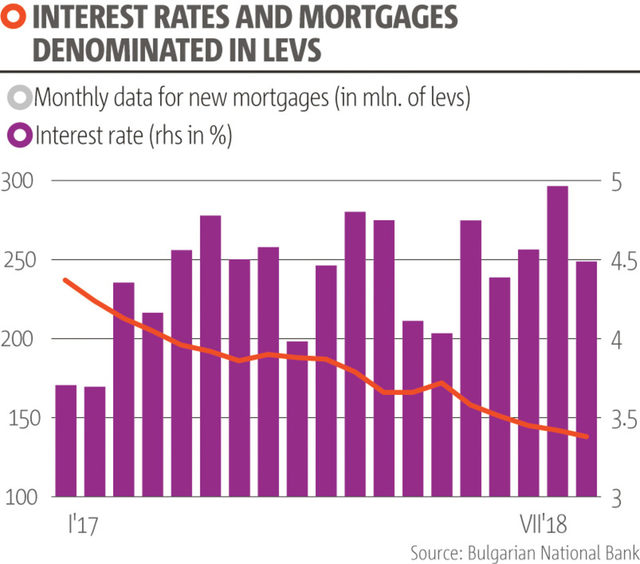 The second financial hub
In recent years Plovdiv has stood out by attracting foreign investment for the construction of manufacturing facilities in its industrial parks. People from the neighbouring regions - Haskovo, Karzdhali, Stara Zagora, and Smolyan - migrate to Bulgaria's second-largest city, spurring real estate activity.
At the end of last year, Plovdiv set a record for the construction of new residential buildings. Even though average prices have grown by 50% in the past five years (according to Bulgarian Properties), they still lag Sofia's by far and are lower than those in Varna and Burgas. In the third quarter, the average price per m² was 734 euro, or about 30% less than the value in Sofia. The market in Plovdiv also has a different focus: "Buyers mainly look for a home, while investment targets smaller properties," remarked Stefan Mollov from Bulgarian Properties.
Still, Plovdiv appears to be the most stable of the four largest city markets in Bulgaria. In spite of the rise in construction activity, it barely reported any difference in sales or mortgages on a yearly and quarterly basis. "This is definitely one of the revitalized markets after the crisis. Of course, the reason is the good economic environment," Mladen Mitov from Yavlena real estate agency believes.
Sunny on the coast
The situation along the Black Sea coast is also rosy. The Registry Agency tells us that Varna has experienced a real boom this year, surpassing all other big cities - sales have risen by 11.69% in the first nine months compared to 2017.
Property prices have been going up in Varna. Bulgarian Properties points out that the average price per sq. m was about 820 euro at the end of September.
"The property price increase in Varna has been gradual and emulates other big cities in the country," said Delyan Dimitrov from Imoteka. Nevertheless, the city also expects market saturation. "The tempo of construction will need to slow down a bit but prices will also maintain their current level," forecast Kalin Chernev from Bulgarian Properties.
Burgas follows Varna, albeit on a much smaller scale. Despite that, the average price is the same in both cities. Sales in the last quarter have fallen by 10% on a yearly basis. In Burgas, as well as Varna, there're no significant differences in the number of mortgages issued in the second quarter. The situation is different in Sofia and Plovdiv where mortgages decreased.
Signals from the banking sector
Halfway through the year, and for the first time, banks have extended over 10 billion levs in homeowner credits. To put this in context - the figure equals about 10% of Bulgaria's forecasted GDP in 2018. New mortgages issued this year are expected to overtake 2008 when the global crisis struck.
It isn't just the size of the credits that send a signal about hazardous accumulations taking place on the market, but their structure and interest rate as well. On the one side, new mortgage loans with a downpayment smaller than 20% grew almost by half last year, according to BNB data. According to Borislav Gostev, head of Trade Partners Management Department at United Bulgarian Bank, more than half of all new mortgage loans were financed by banks at over 80%. In other words, the risk is extremely high for borrowers in case of unfavourable economic developments.
For many people, monthly mortgage payments exceed 50% of their income, which could strain their finances when the adjustable interest rate increases. That's the other problem. In Bulgaria, less than 1% of home-buying deals have a fixed rate valid for more than three years because fixed-rate deals are more expensive for banks.
With the European Central Bank expected to start gradually increasing interest rates from next year, this data should stand as a warning for home buyers and the property market as a whole.
THE RETURN OF THE MEGA RESORTS
A 30 million euro resort complex is being built in the coastal region between Pomorie and Aheloy. It's one of the largest investments involving a foreign partner since the financial crisis. Wave Resort, about 500 meters from Aheloy camping site, will open at the start of summer 2019. The investor is Aheloy Project with partners Ventsislav Tanchev and Emre Yunsef. Tanchev is the owner of travel agency Sun Tours, the Bulgarian representative of German tour operator Alltours and other companies from Central Europe. He also owns the boutique hotel Modus in Varna.
Yunsef manages tour operator Novum Touristic in Turkey, which partners Alltours, and runs two hotels in Antalya. With over 30 million euro to be invested, the project is one of the largest being developed on the Bulgarian coast after the crisis. Only Albena resort with its 59 million levs invested in 2017 (with a further 23 million levs planned for 2018), and the RIU Paradise complex located between the resorts of Sunny Beach and St. Vlas exceed its estimated value. Terra Tour Services, which is connected to Valentin Zlatev (CEO of Lukoil Bulgaria fuel wholesaler), invested 100 million levs in RIU Paradise four years ago, and this year it has begun a further expansion with a 45-50 million levs hotel.
NEW HIGHRISES
Two of Sofia's newest skyscrapers should spring up soon at the intersection of G.M. Dimitrov and Dragan Tsankov boulevards. The first is the office tower of Nikolay Valkanov (Chairman of Board of Directors of Minstroy Holding), which will stand at a little over 100 meters. The total area of NV Tower (possibly after the owner's name) will be 46,500 sq. m, and its height 75 meters. This amounts to 19 floors plus other architectural elements, such as roof gardens, which will bring it up to 106 meters. The other building, owned by Plamen Miryanov (CEO of Arteks construction company), will be 75 meters high with a total area of 22,500 sq. m, and will be wholly residential. The locality has become attractive because of its proximity to a metro station and the city centre.