The sales of the 25 main dealers in furniture, lighting devices, and other interior design items in Bulgaria have grown by the double digits for two straight years. In 2015, the turnover of such chains rose to 404 million levs, up 16% year-on-year. In 2016, their sales increased to 458.5 million levs, up 13.5%. This growth in sales can be attributed in large part to the continued recovery of the real estate and construction sectors. In the meantime, one of the biggest furniture retailers, ARON-S, which had 10 stores dropped out of the market while other players continued to grow and open new outlets.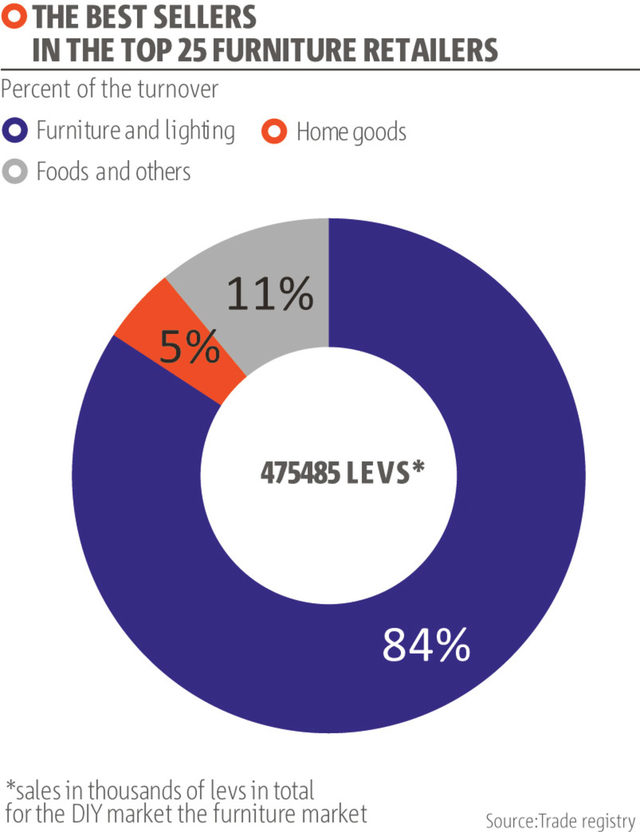 Three large companies - IKEA (House Market Bulgaria), Mebeli Videnov (the Videnov Group) and Austrian-owned AIKO (AIKO Multi Concept) generated half of the country's sales of furniture and household interior design items fin 2016. The combined market share of the top three companies has stayed at the level of 49% for two consecutive years. Their turnovers stand between 60 and 100 million levs each, while their annual revenue growth is in the range of 10 to 15%, respectively. However, AIKO with its sister company Mömax Bulgaria, a company also owned by AIKO Multi Concept, have combined revenue of 72.1 million levs, ranking it second among the furniture retailers. For AIKO and Mömax Bulgaria 2016 was the first year of operation since one of the biggest furniture chain in the world, Austria's XXXLutz, acquired controlling stakes in them in 2015.
Ten retailers have revenues of 10 to 30 million levs each. In 2016, their combined market share grew by 0.5 percentage points to 37.5% i. Each has market shares of between 2 and 6%. Their numbers include Jysk Bul, a unit of the Danish chain Jysk, which achieved revenue growth of 61% in 2016, a record among the retailers. The company with the greatest decline in sales of 27% in 2016 , Furniture Stores Yavor, ownedby the Marash Financial Group.
Three non-furniture companies also fall within the group of the largest furniture retailers. Domko, an importer and retailer of carpets, wallpaper, linoleum, laminated wood flooring, and decorative panels, reported a moderate annual revenue growth of 5.6% to 27.1 million levs last year. The revenues of Prima Group 2004, a company specialized in imports and sales of lighting solutions, increased by an impressive 35% to 26.15 million levs in 2016. Sales booked by CarpetMax, a retailer of textile and other flooring materials, increased by almost 18% to 20.7 million levs in 2016.
Only the Marash Financial Group, owner of Furniture Stores Yavor chain reported a decline in profits during 2016. The company's revenues dropped by 27% compared to 2015. Zlatno Slance, a company with sales to hotel keepers on Bulgaria's Black Sea coast recorded a 10% decline in sales.
In addition to the overall growth of sales of the furniture chains, the good results of the luxury furniture retailers in the sector also show an interesting trend. Varna-based Martineli, which closed 2015 with a loss, marked a 43% growth of sales and swung to profit in 2016.
Other companies with record-high revenues growth include Dipol with a growth of 47%, followed by furniture producer Hop Mebeli with 36%, Enikom M with 34%, Trakia Market with 32%, and Ars Trade (Labyrinth furniture) with 26%.