The SOFIX index, which tracks the 15 most capitalized and liquid stocks on the Bulgarian Stock Exchange (BSE), plunged below 600 points by end-November 2018, its lowest value on the way down since December 2016, despite a recent rebalancing which saw two new companies enter its composition.
On September 25, financial leasing company Elana Agrocredit and hydraulic equipment manufacturer M+S Hydraulic became SOFIX members, replacing diversified groups Industrial Holding Bulgaria and Doverie United Holding.
The benchmark index has lost 5.04% since the rebalancing, as all but one of its constituents saw their share price decrease in the review period.
New entrants Elana Agrocredit and M+S Hydraulic lost 1.7% and 3.1% of their share price during the review period, respectively, even though both companies posted robust growth of net profit and revenue in the January-September period.
Major decliners
Trace Group Hold (-17.7%)
Shares in construction company Trace Group Hold lost 17.7% overall, closing at 2.80 levs on November 30. The company's share price bottomed on November 22, hitting a six-year low of 2.70 levs.
Trace Group Hold's headaches began in August when a bus crash, allegedly caused by the poor condition of a road repaired earlier by the company's unit Trace Svoge, killed 17 and left dozens injured, and later led to the resignations of Bulgaria's ministers of interior, transport and regional development.
The company repeatedly denied all allegations of negligence, but its share price suffered a 20.6% drop by September 10. In response, the company launched a share buyback program, which brought its share price to a peak of 3.58 levs on October 3, cutting its losses since the accident to some 5.3%. However, as the company was due to publish its nine-month financial report by end-October, share repurchases could no longer be made and Trace Group Hold's share price went straight downhill from then on.
Central Cooperative Bank (-14.0%)
After several months of wobbling in the 1.70-1.80 levs price range, Central Cooperative Bank (CCB) share finally found a direction in early October - down. The stock ended November at 1.50 levs, falling 14.0% during the review period and hitting a two-year bottom of 1.40 levs on the way down.
The company's share price tipping point coincided with an official confirmation from Bulgaria's Ministry of Finance on October 3 that the country had sent a request for close cooperation with the European Central Bank (ECB) on banking supervision as part of Bulgaria's bid to join the Eurozone and the Banking Union.
On November 12, just when the company had recorded four consecutive trading sessions without a share price decrease, the ECB announced that it will undertake a comprehensive assessment of six Bulgarian lenders, including CCB, as part of the process of establishing close cooperation on supervision with Bulgaria's central bank. The assessment of the six banks includes an asset quality review and a stress test.
Kalin Hristov, deputy governor of the Bulgarian National Bank (BNB), explained later that the process is expected to lead to deceleration of lending activity, just as in 2016 when Bulgarian banks went through an asset quality review and a stress test conducted by the BNB.
The slowdown flows from lenders being likely to hold off from taking new credit risk during a review, as well as the sheer decrease in administrative capacity due to the allocation of resources needed to carry out the check. However, unlike in 2016, this time only part of the lenders in the country will be tested, which gives their local peers a competitive advantage, Hristov concluded.
Chimimport (-11.2%)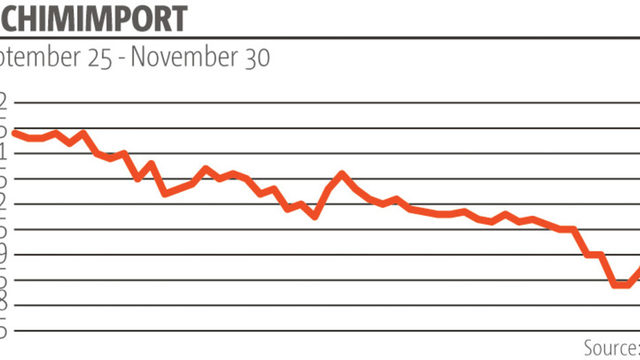 Despite its positive non-consolidated financial report, diversified group Chimimport saw its share price decline by 11.2%, likely because it indirectly controls a majority stake in Central Cooperative Bank through its wholly-owned subsidiary CCB Group.
At the end of October, Chimimport reported an 11.2% increase in its nine-month non-consolidated net profit, to 37.6 million levs. The holding company grew its operating revenue by nearly 32% to some 48.7 million levs.
Lone gainer
Sirma Group Holding (+8.7%)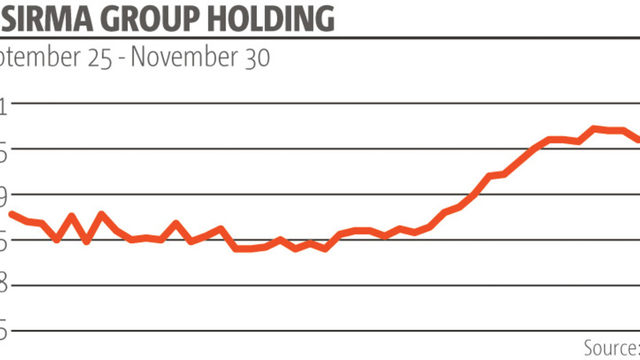 Software developer Sirma Group Holding held on to a gain of 8.7% over the review period, bucking the market's overall downward trend. The company's shares ended November at 0.954 levs, thanks to a solid improvement in its financial performance over the first nine months of the year.
The rise in the share price began at the start of November, as the company announced its consolidated net profit after minority interest nearly doubled to 3.3 million levs in January-September from 1.7 million levs in the comparable period of 2017. The company also pocketed 45.2 million levs in operating revenue, up by an annual 20.7%.
Major Developments
Voucher Scheme
Bulgaria's Ministry of Economy and the Bulgarian Stock Exchange launched on October 15 a voucher scheme to support micro, small and medium-sized enterprises (MSMEs) which want to carry out an initial public offering on the Sofia bourse.

The voucher scheme, managed by the Bulgarian Small and Medium Enterprises Promotion Agency, benefits from 1.5 million levs in EU financing under Operational Program Innovation and Competitiveness 2014-2020.

The scheme envisages granting vouchers of 50,000 levs each to 30 MSMEs to cover part of their costs related to completing an IPO on the BSE. The companies commit to issuing at least 500,000 levs worth of new shares each within nine months of the vouchers' issuance.

The voucher scheme will run until October 2020.


CTP License
Bulgaria's Financial Supervision Commission decided on October 25 to grant the Bulgarian Stock Exchange a license to operate as a consolidated tape provider (CTP), making the Sofia bourse one of seventeen companies authorized to disclose trading reports in the European Union.

The license enabled the bourse operator to publish information on Over-The-Counter (OTC) transactions on behalf of investment intermediaries. The BSE started providing the service in mid-November after it launched its new website.

"By obtaining this license, we will again be able to disclose information about directly negotiated transactions between parties outside a regulated market. To date, their conclusion has been severely hampered by the high costs involved in fulfilling the obligations to publish data about them. We intend to offer a cost-effective solution that will contribute to the transparency of the financial instruments market as a whole", Ivan Takev, CEO of BSE, said.


New Deutsche Boerse trading system
The BSE said in November that it has signed a seven-year deal with the Deutsche Boerse for the right to use the Xetra T7 platform to facilitate trading on its regulated market and the Multilateral Trading Facility (MTF). The platform was selected due to its low operating costs and minor functional differences compared to Xetra Classic, which the Sofia bourse uses currently, the BSE explained.

The bourse operator started the selection process in the second quarter of the year and considered three alternative platforms offering similar functionality.

Activities in relation to the introduction of the trading system have already started, as the migration date is set for the second half of June 2019. The exact date will be announced at a later stage.

The BSE forecasts an increase in its expenses for hired services of around 19% following the migration, as a result of the platform's higher operating costs. In January-September this year, the BSE spent 673,000 levs on hired services, virtually unchanged from a year earlier, its interim non-consolidated financial statement showed.
Forthcoming events
IPOs on the way?
Two companies are likely planning IPOs on the Bulgarian Stock Exchange in the near future, statements from the Financial Supervision Commission indicate.

In October, the financial regulator said that it has asked financial services company Intercapital Group, which operates under the brand name Cashterminal, to provide additional information and documents regarding its request for approval of a prospectus for admission to trading of a share issue on the regulated market of the BSE.

Although the regulator did not provide further details on the company's plans, direct listings are not a common practice on the Sofia bourse, which makes it rather safe to assume that the company has set its sights on an IPO.

Intercapital Group, established in 2009, operates a network of automated machines for accepting cash payments for different types of services - water and power supply, heating, cable TV, internet.

According to the latest available data from the Bulgarian commercial register, Russian national Ali Aliyev owns a 75% stake in Intercapital Group. Sofia-based Nixxon Limited, which is fully owned by private individual Vanya Chervenkova, holds a 20% stake, while the remaining 5% interest is held by Sofia-based Luck Capital Group, a company fully owned by private investor Ansar Mazaev. Intercapital Group booked revenue of 4.5 million levs in 2017 and ended the year with a net profit of 20,000 levs.

Later in October, the financial regulator said it has asked local hospital Hygia to provide additional documents related to its request for approval of a prospectus for an initial public offering. Subsequently, the regulator decided to give Hygia additional time to provide the necessary documents.

According to documents filed by Hygia with the commercial register, the Pazardzhik-based hospital will seek to raise 6.5 million levs by offering 1.3 million ordinary shares at a price of 5 levs apiece.

The company's registered capital currently totals 2 million levs, divided into 2 million shares. The hospital is majority-owned by private investor Stayko Spiridonov, who holds an 85.7% stake.

Hygia generated 10.5 million levs in revenue in 2017, closing the year with a net profit of 35,000 levs.


MTF for SMEs
The BSE is still struggling to obtain the long-awaited approval from the Financial Supervision Commission to operate a multilateral trading facility (MTF) that would serve as a growth market for small and medium-sized enterprises (SMEs).

After several requests for clarifications, the regulator said in October that it has extended the deadline for the BSE to provide all necessary information regarding its request.

In February, Bulgaria's parliament approved changes to the Markets in Financial Instruments Act, which include the opportunity to establish a so-called growth market. According to the act, a growth market is an MTF on which at least 50% of listed issuers are SMEs.